Save more time, create better content, and build a follow-worthy brand with an all-inclusive, styled stock photo + graphics membership with Pixistock.
We help women create BETTER content, so they can build strong, follow-worthy, online brands.
A Pixistock membership gives you unlimited access to download from a digital library of thousands of styled stock photos, graphics, templates, and more. With content creation trainings & design tutorials, you'll also learn exactly how to build a brand that ATTRACTS.
Welcome to your content creation lifesaver.
Brand Conception
Register your brand's color palette in our database, discover your brand's personality, get color inspiration, and find photos to match.
Brand Content
Not sure what to post? Get access to 600+ social media prompts, with thousands of hashtags researched FOR YOU, to help plan your daily content. It's a social media lifesaver!
Brand Composition
Get instant access to our fully customizable Canva templates in 30+ categories including Pinterest pins, ebooks, social media graphics, calendars, web banners, lead magnets and much more!
Brand Cohesion
Get unlimited downloads and commercial use of over 4,000 Styled Stock Photos and done-for-you Social Quotes to build your website and create cohesive social media feeds.
Brand Consistency
Apply any one of the 60+ Pixistock Adobe Lightroom presets to achieve a professional image edit across ALL your personal or product photos with just one click.
Brand Connection
Connect with thousands of other Pixistock members in our exclusive member community where questions are answered, we get feedback, along with content creation and brand strategies!
"Pixistock has transformed the way I create content for my business. I am not a naturally "creative" person and have zero graphic design skill, but Alicia's work makes me look like a pro!! I have saved myself countless hours through her outstanding photography and Canva-ready templates.
I promise you that no matter what stage your business is at, Pixistock will change how you work. Thank you Alicia, you are amazing!"
I wanted to cry tears of pure entrepreneurial joy after purchasing Alicia's annual plan! She didn't leave any stone unturned. This is EVERYTHING you need to create a brand that your followers, readers, and clients will fall in love with! I've purchased templates in the past from other templates/branding shops and were sadly disappointed that the templates didn't include any of the actual fonts, pictures, or icons that were on the actual display templates themselves (what gives?!).
Alicia OVER-DELIVERS by providing you an all-inclusive, one-stop membership that includes high-quality photos, social media graphics, templates, and more! Saving you hours of time trying to piece it all together yourself. If you're on the fence about purchasing this membership, don't be! You can rest assure that Alicia's got you covered!
"The Pixistock annual membership is one of the BEST investments I've made in my business. It's provided beautiful photos to help share my clients' stories on social media, as well as my own.
The premium graphic templates have allowed me to upscale my brand visually, delivering beautiful, polished deliverables to my customers. I'm also in love with the workbook templates, which I'm sharing at workshops and have so much fun customizing. I can't imagine doing business without the help of the amazing tools and resources Alicia provides at Pixistock! "
"I downloaded my copy of the SMCC and all I can say is WOW, THANK YOU! This is the product I've been waiting for! I struggle so bad with social media and trying to figure out what to post. You provide so much value I can't even describe it. Thank you so much for your creativity and value added!"
"Thank you Alicia for the content calendar. This calendar is so well thought out that it really is a no brainer for me posting on Instagram which is what I have been WANTING. I have so much going on that now I am all about working smarter not harder. And this calendar definitely helps me do that.
I have picked up 10 new followers in 2 days. That might be small, but this is MIGHTY to me!"
"I came across Alicia and Pixistock quite randomly. I clicked, watched her videos and was immediately taken by her easy, kind approach, her professionalism and responsiveness - not to mention the the simplicity yet ROBUSTNESS of the membership! I'd had been flailing around grabbing images here and there with no cohesive, consistent strategy. But after ONE DAY in the Annual membership, I have such amazing content ready to go and feel so excited about my brand and content again. Thank you, Thank you!"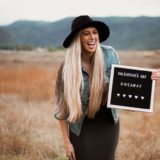 "Loving my content calendar from Pixistock! I planned an entire month's worth of posts in ONE night! That's never happened before!"
"I love your photos Alicia! I'm so glad I invested in Pixistock!"
Christina Leeman
She Who Honors
Hi. I'm Alicia, founder of Pixistock.
Let's face it. Figuring out what to post everyday to market your brand is challenging. And the struggle to build a highly engaged audience can be overwhelming. Some days you feel uncreative or unmotivated, and you desperately need shortcuts to build your professional brand without being charged for every little thing.
That's why I created Pixistock.
Pixistock eliminates having to buy single images and graphics over and over again from online stock shops. And if we're honest, you need MORE than just styled stock photos.
You need accountability, community, training and a content marketing plan that keeps you consistent without the penny pinching.
So let's see...will Pixistock content work for you?
Our photos and templates come with a limited, commercial use license. Create and sell your pdf ebooks, course materials or lead magnets to your audience using Pixistock content.*
This is for you if:
Your niche is related to: business, blogging, finance, podcasting, coaching, consulting, design, home decor, healthy living, wellness, parenting, party, fashion, cosmetics, bridal or travel. (not sure? Email us at info@testpixi.tk)
You want to create cohesive, professional social media feeds that attract new followers.
You want to create and sell your own digital pdfs or lead magnets on your website.
You are a VA, SMM or graphic designer and need content to make custom graphics for individual paying clients.
You want training on how to level up your content creation game and brand strategy.
You're building your brand from scratch and need inspiration, feedback, and accountability.
You have or want a brand with a chic, feminine and bright aesthetic.
Joining is easy! Choose from any one of our flexible subscription plans:
Cancel without penalty or upgrade at anytime.
Annual

Access to thousands of styled stock photos
Access to hundreds of social quote graphics
Access to thousands of Canva templates
Access to the annual Social Media Content Calendar
Access to Adobe Lightroom Preset collections
Quarterly

Access to thousands of styled stock photos
Access to hundreds of social quote graphics
Access to thousands of Canva templates
Access to the annual Social Media Content Calendar
Access to Adobe Lightroom Preset collections
Monthly

Access to thousands of styled stock photos
Access to hundreds of social quote graphics
Access to thousands of Canva templates
Access to the annual Social Media Content Calendar
Access to Adobe Lightroom Preset collections
As soon as you join, you'll be redirected to our membership dashboard to access all of the member-only graphics and content!
We add 100-200+ new styled stock photos every month so you'll always have new content to post to your blog, website or social media feeds.
Members can choose from over 3,000 professionally-designed, FULLY customizable Canva templates in 30+ categories - the largest collection of any styled stock membership, including:


"I have joined, downloaded, paid for a lot of online content for my business in the last year and I have got to say yours has been one of, if not the BEST investment I have made in my business!
I joined for the graphics which convert, but my god, the value has blown me away! Pixistock has so many templates for anything I could have thought of and it has saved me hours of work and made my life 100x easier!
And the photo stock - Wow, what can I say. It is simply amazing! I have not come across images anywhere else which make me feel as inspired to create content as yours do! I am absolutely obsessed with all the images you put up and I cannot thank you enough.
I am so excited to see what new content is added every month and I just want to thank Alicia for creating such a great resource for people like me!
This is one purchase I could not recommend more and if anyone is on the fence, girl just jump! You 👏🏽 Will 👏🏽 Not 👏🏽 Regret 👏🏽 It!"
"Thank you for this resource!
I signed up as a member about a month and half ago. I can't stress how very impressed I am with the quality of the resources you provide and your responsiveness to us, your members.
Trust me when I tell you that I'm a tough grader and I have not been as impressed with a product or service in a very long time. I sincerely thank you for your commitment to quality and meeting our needs both by simply asking (simple, and yet so few businesses do it) and also by anticipating what we need before we even register it ourselves!"
"I've been using Pixistock for my marketing needs on all of my social media platforms and it has been amazing. The content provided is always fresh, trendy, and multicultural to resonate with various audiences.
The membership has been a valuable resource so I can differentiate my service and stand out. There's so much content, templates, and even a social media content calendar that spawns creativity while being consistent with my brand.
Alicia's team is also very responsive in emails and answering any questions or valuing any feedback for upcoming content creations. I highly recommend Pixistock as a source for all stock photos and beyond.
This membership site is one of the best ones I have bought. Alicia brings so much value!"
"Just wanted to say WOW.. this content calendar is just off the charts. The hashtag lists alone are worth it... And I own 2 businesses, 1 in fashion, 1 in wellness and self-care (so I get double duty out of it).
This is literally 5 years worth of content for me because I don't post every single day. Those other content calendars floating around out there are a JOKE compared to this.
Your system of ALL the different types of posts and prompts is SO COMPREHENSIVE. You obviously really care about this. Those other content calendars look like they were thrown together in a couple hours for a quick buck. A+, Lady!"
"Just wanted to say thank you. I truly believe, with your Content Calendar and my new membership in Pixistock, I will finally get my act together. I really needed some coherence and, as far as I can tell, you've got that down pat. And, believe me, I have had plenty of experience with other (photo stock and other) memberships.
I ditched them to jump on board with Pixistock - and I'm not looking back. Bless you. You're a Godsend."
"Alicia's Pixistock images and templates are so chic - perfect for my site!!"
"Alicia is amazing to work with - I had been following her for quite sometime and knew I wanted to do some branding photos that were all mine when I saw she offered this service.
She was able to put together absolutely stunning photos in my brand colors that I LOVE using. She knows what looks good & has built a library of amazing photos to also choose from. I can't wait to work with her again!"
Frequently Asked Questions
Questions? Let's tackle the biggest questions I get about the Pixistock membership right here, right now:
Depending on the membership level you choose at checkout, included in your Pixistock membership is:
- Access to the Styled Stock Photo library
- Access to the Canva + graphic template library
- Access to the ready-made Social Quotes
- Access to 365+ Social Media Content Calendar System
- Access inside the Brand Builder's Lounge, private community for members
- Access to the Learning & Design center with design trainings, and tutorials
The library has 4000+ styled stock photos, including Canva templates and Instagram quote-ready graphics. We add 100-200+ styled stock photos to the library every single month!
We always add a variety of photo collections every month in the categories of business, finance, beauty, health, wellness, home, lifestyle, party, kids, seasonal, holiday and more.
Yes! We encourage it! Get creative and make our images and graphics your own by adding your personal branding, or logos; change the colors, add photo filters, add your personal design elements, or embed your product images.
Yes we do! Every month, you'll see a new collection of photos specifically with women and models of color.
Don't worry, we have more than just pink photos and graphics in our stock library. While it is the number 1 color requested by our members, we also add photos of other colors, from blues, to earth tones, neutrals, and more.
We have the largest collection of Canva templates in any styled stock membership with over 3,000 to choose from in 30+ categories including:
Calendars, checklists, ebooks, workbooks, roadmaps, questionnaires, Pinterest pins, board cover, Facebook covers, group covers, group prompts, Instagram stories, quote graphics, promotional graphics, slide decks, client testimonials, lead magnet promos, look books, gift guides, media kits, real estate flyers, YouTube channel art, Youtube thumbnails, email newsletter headers, sidebar ads, website banner, shop banners, blog post opt ins, and more.
Individual ebook pages including: book covers, about me page, table of contents, chapter/module titles, content pages, worksheet pages, recipe pages, quote pages, call-to-action pages.
I stand by my the membership and all downloadable contents inside. Due to the nature of digital downloads, we typically do not offer refunds. But I want you to be 100% satisfied with your purchase. Please email me at info@testpixi.tk so I can help you find the perfect content for your brand before purchasing. Any refund requests must be made within 7 days of purchasing the products.
You may cancel your membership at any time (without penalty or additional charge) from which your membership will carry out until the end of your term. Email us first so we can be sure you got the most out of your membership. We're always here to help!
Joining the membership grants you a LIMITED commercial use license to download all content inside. The purpose of the Pixistock membership is for your to market and advertise your blog or business using our photos.
There are limits on the commercial usage of our photos. Please see the Photo Usage Agreement to ensure you are compliant.
Absolutely! With the membership plan, you'll have access to thousands of beautiful stock photos that you can use instantly to create an amazing website for your blog. Quickly fill your newly created social media feeds with awesome graphics and make a great first impression.
While I do get all warm and fuzzy inside when tagged in member posts, it is not mandatory that you credit Pixistock. But it is much appreciated if you choose to!
Are you ready to build a beautiful brand?
Get access to the all-inclusive stock membership that helps you create content that converts!
Have more questions? I'm happy to help. If you want to know if we have the content you need for your brand or have other inquires, feel free to email us at info@testpixi.tk.